"Thanks to a set of necessary tools you get topnotch Nails."
– Blueprint description
Description
"Thanks to the set of useful tools you can work with metal"
The Workbench is a workstation piece of furniture used to turn metal bars into plates (and plates into nails, where applicable).
Crafting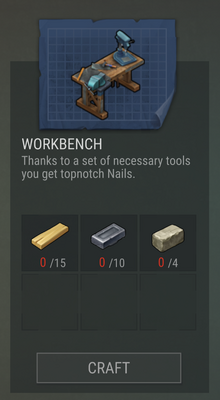 Unlock:
Materials:
Furniture:
Placement: Plank Floor (lvl.2)
Max: 2
Grid Size: 1x1
Orientation: 4 positions
Assembly
Camp. Sector 7 added in Beta v.1.12.3
Recipes
Recipes
Recycling
On the Recycler, a Workbench can be recycled into Common Plank, Scrap Metal, and Stone Brick in 10 minutes and 1 second at an appropriate level of Other recycling skill.
Raiding
Like other furniture, Workbenches at NPC Survivor Base and Mirrored Survivor Bases cannot be used but may be smashed to access possible contents during raids, at the expense of 8 points of noise.
Trivia
Gallery