"Used for cutting wood into planks."
—Blueprint description
Description
"Used for cutting logs. Can be placed in Build Mode"
Crafting Requirements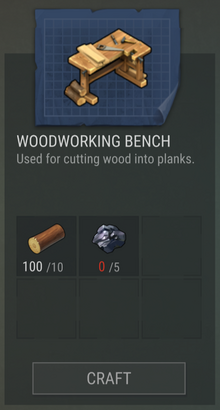 Unlock:
Materials:
Furniture:
Placement: Floor (lvl.1)
Max: 2
Grid Size: 1x1
Orientation: 4 positions
Assembly
Outpost Camp. Sector 7 added in Beta v.1.12.3
Recipes
NOTE: The following recipes are currently unavailable in the game due to the items required not being in-game.
Recycling
On the Recycler, a Woodworking Bench can be recycled into Limestone, and Iron Ore in 10 minutes and 1 second at an appropriate level of Other recycling skill.
Community content is available under
CC-BY-SA
unless otherwise noted.