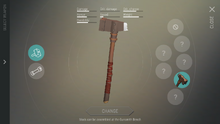 Weapon Modifications
These are used to increase the attributes of a melee weapons or guns.
Available 235 weapons modifications. 226 blueprints to find, 1 modification no blueprint required (AK-47 No Stock), 145 common modifications, 41 rare modifications, 25 extremely rare modifications, and 23 extremely rare mod with active skill, 15 available, 8 unavailable.
For craftable weapons only: once you save your preferred modifications, everytime you craft a new copy of said weapon - it crafts already modified!
Modifiable Weapons Table
List of materials
Glock 17 modifications (17)
Mini Uzi modifications (20)
Shotgun modifications (14)
AK-47 modifications (19)
FN SCAR modifications (18)
M16 modifications (14)
Zip Gun modifications (8)
Bow modifications (14)
Spear modifications (12)
Machete modifications (10)
Cleaver modifications (8)
Trivia