Description
Temporary Base is an event location on the Global Map.
This event will spawn after getting Note #12 from Barker.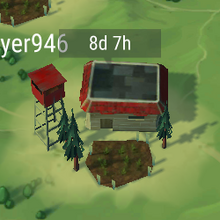 You will need 1 or 2 Iron Hatchet
ENCRYPTED NOTES
idOV$C 8R!WhS caB!O8
uNQG@o #$$*Ran P@RZy
dJ%qva 2BN$Hu &MHtC9
You know what to do with this, Barker.
Enemies
9 Soldiers 100 HP
2 Turret 250 HP
Basement Enemies
This part is similar to Infected Junkyard
FROM FREDERICK OLSEN'S NOTES
The commission, convened by Jales to
investigate the incident with object 2L2Z4,
shut Barker down. This time he stayed quiet.
Honestly, his silence confused me even more
than the arguments he usually started.
Video Guides
Resources
Trivia
Community content is available under
CC-BY-SA
unless otherwise noted.