"Used by military units for performing special operations on enemy area."
– Blueprint description
Description
"Used by military units for performing special operations on enemy area."
Information
It gives 10 extra slots compared to the Basic Backpack, 5 extra slots compared to the Military Backpack and brings the total inventory system of the player up to 25, 10 pockets + 15 backpack slots. (VERY RARE TO FIND TAKE CAUTION WHEN GOING OUT WITH ONE!)
Crafting Requirements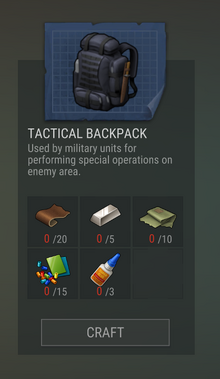 Unlock:
Materials:
Recycling
On the Recycler, a Tactical Backpack can be recycled into Plastic, Leather, and Steel Bar in 10 minutes and 1 second at an appropriate level of Clothes recycling skill.
Trivia
Gallery