Notice: Snowy Race Track is unavailable and was removed automatically from the game in version Beta v.1.11.3 after end of the event.
Description
Snowy Race Track was an event location on the Global Map during Christmas 2018.
Snowy Race Track is a time limited 8 hour event that spawns once a day.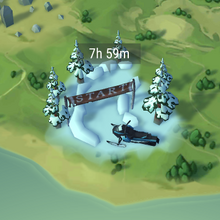 Note: Location available from level 7
"Ralph trades ornaments for Christmas presents"
"Don't waste your time"
"Talk to Shaun"
"Ask Shaun if you wan't to participate in races"
"Race track is much more dangerous than it seems"
"Ready?"
"Three"
"Two"
"One"
"Go!"
"Congratulations! Great race."
"Cheer up, better luck next time!"
Ralph
Shaun
"Take part in our races and win a reward every day" - Shaun
Win 3 times today to open the chest
Resources
Trivia
Gallery
Community content is available under
CC-BY-SA
unless otherwise noted.