Notice: Snow Field is unavailable and was removed automatically from the game in version Beta v.1.11.3 after end of the event.
Description
Snow Field was an event location on the Global Map during Christmas 2018.
Snow Field is a time limited 24 hour event.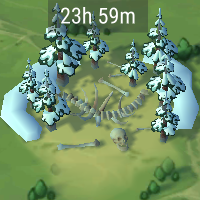 Note: Location available from level 25
LAST NOTE
7 p.m. Frankie brought Santa and elves costumes and put them into the tent to the loot. He says we are going to celebrate. Tomorrow we are setting of home.
7 a.m. We got a problem! Someone trashed the tent and scattered everything that was inside over the camp! Some stuff and rare loot still can't be found. It might be a bear. But what was it doing here?
Enemies
Resources
Video Guides
Trivia
Gallery
Community content is available under
CC-BY-SA
unless otherwise noted.