Notice: Season 9 is unavailable and was removed automatically from the game in version Beta v.1.17.1 after end of the event.
Description
Start: July 13, 2020
End: August 13, 2020

YOUR BUSINESS
Build an empire!

Buying the Premium access, you gain access the Premium rewards and release the Premium tasks, you can chose between Premium and Premium + 10 levels:
Premium: you gain access to Premium rewards and tasks.

You will spend about 4.99 USD

Premium + 10 levels: you gain access to Premium rewards and tasks, more 10 levels rewards unlocked, until level 11.

You will spend about 9.99 USD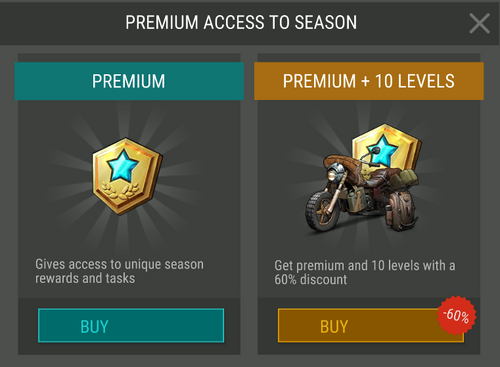 Reward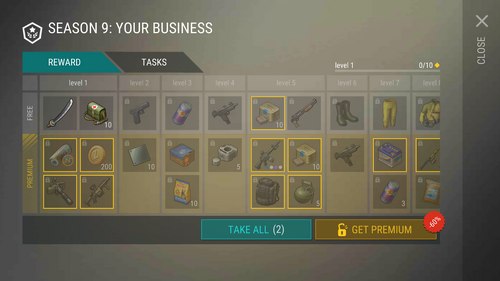 level 1
level 2
level 3
level 4
level 5
level 6
level 7
level 8
level 9
level 10
level 11
level 12
level 13
level 14
level 15
level 16
level 17
level 18
level 19
level 20
level 21
level 22
level 23
level 24
level 25
level 26
level 27
level 28
level 29
level 30
level 31
level 32
level 33
level 34
level 35
level 36
level 37
level 38
M16 (

PREMIUM

)

Drum Magazine

Sight x2

Silencer

Green Laser

Gas Cylinder (

PREMIUM

)
level 39
AK-47 (

PREMIUM

)

Large Magazine

Sight x4

Handmade Silencer

Red Laser

5 Grenade (

PREMIUM

)
level 40
Tasks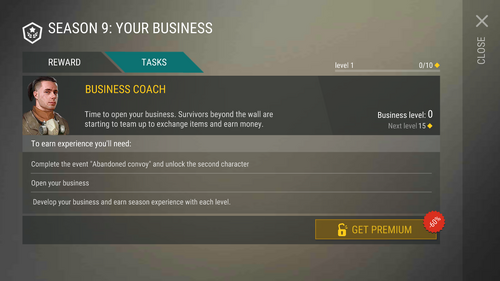 BUSINESS COACH
Time to open your business. Survivors beyond the wall are starting to team up exchange items and earn money.
To earn experience you'll need:
Complete the event "Abandoned convoy" and unlock the second character
Open your business
Develop your business and earn season experience with each level.
Note: The number of items needed for each level may have changed, and may differ from the table below. It is not known whether it was intentional or not, perhaps to keep players longer in the game and the game more pay-to-win.
Trivia
Introduced in Beta v.1.17.1
Duration was extended, before only until August 9, 2020
Community content is available under
CC-BY-SA
unless otherwise noted.