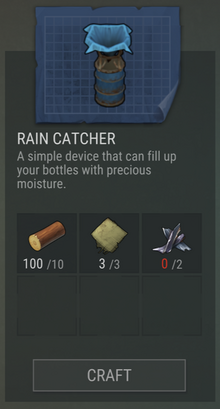 "A simple device that can fill up your bottles with precious moisture."
—Blueprint description
Description
"Used for water collection. Can be placed in Build Mode"
The Rain Catcher can refill your Empty Bottles, turning them into Bottle of Water at a rate of 10 min
Crafting Requirements
Unlock:
Materials:
Furniture:
Placement: Ground (Only)
Max: 2
Grid Size: 1x1
Orientation: 1 position
Recipes
Recycling
On the Recycler, a Rain Catcher can be recycled into Pine Log, Scrap Metal, and Piece of Cloth in 10 minutes and 1 second at an appropriate level of Other recycling skill.
Community content is available under
CC-BY-SA
unless otherwise noted.