"Allows you to repaint your Chopper"
– In-game description
Description
Patterns are Items required to recolor the Chopper. In the future, patterns may be able to be applied to other vehicles as well.
Since Beta v.1.10.3, you need build a Garage to recolor the Chopper.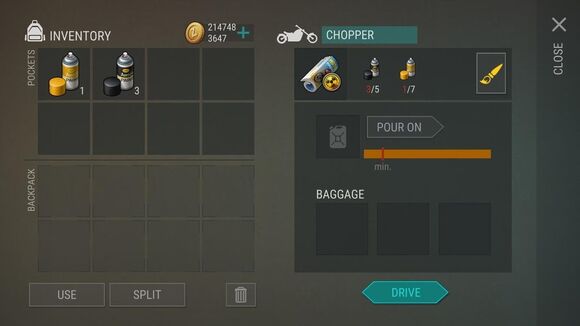 Patterns do not stack and require the use of various paints to be applied.
On completion of Bunker Alfa Level 1 (mainly in yellow and red coupon crates), you get a random Pattern(s).
List
Please update list as new items/information becomes available.
Preview
Information

COMMON

PATTERN "STANDARD"

Standard painting for your bike

Paint:

Rarity: Standard

Found at: Bunker, Red zones, Yellow zones, Floppy with coordinates event, Airdrop, Raiding, Crooked Creek Farm

COMMON

PATTERN "HARVEY"

Can be found in Bunker Alfa, at the farm, or some events on the map

Paint:

Rarity: Rare

Found at: Bunker, Red zones, Yellow zones, Floppy with coordinates event, Airdrop, Raiding, Crooked Creek Farm

COMMON

PATTERN "CAPTAIN"

Can be found in Bunker Alfa, at the farm, or some events on the map

Paint:

Rarity: Common

Found at: Bunker, Red zones, Yellow zones, Floppy with coordinates event, Airdrop, Raiding, Crooked Creek Farm

COMMON

PATTERN "NUCLEAR"

Can be found in Bunker Alfa, at the farm, or some events on the map

Paint:

Rarity: Common

Found at: Bunker, Red zones, Yellow zones, Floppy with coordinates event, Airdrop, Raiding, Crooked Creek Farm

COMMON

PATTERN "BLOATER"

Can be found in bunker Alfa and in some events on the map

Paint:

Rarity: Rare

Found at: Bunker, Red zones, Yellow zones, Floppy with coordinates event, Airdrop, Raiding, Crooked Creek Farm

COMMON

PATTERN "MILITARY"

Can be found in bunker Alfa, on the Farm, and in some events on the map

Paint:

Rarity: Rare

Found at: Bunker, Red zones, Yellow zones, Floppy with coordinates event, Rest Stop event, Airdrop, Raiding, Crooked Creek Farm

COMMON

PATTERN "LEOPARD"

Can be found in a box at coordinates from a military floppy

Paint:

Rarity: Very Rare

Found at: Floppy with coordinates event and Raiding

COMMON

PATTERN "FIRE"

Can be found in bunker Alfa

Paint:

Rarity: Very Rare

Found at: Floppy with coordinates event, Raiding and at the In-Game Shop

COMMON

PATTERN "SKULLS"

Can be found in bunker Alfa at the Blind One's

Paint:

Rarity: Very Rare

Found at: Killing The Blind One, Raiding and Kramp at Infected Junkyard

COMMON

PATTERN "KITTY"

Can be obtained only during holiday events

Paint:

Rarity: Very Rare

Found at: Floppy with coordinates event, Raiding and Greg at Greg's Barn

COMMON

PATTERN "HALLOWEEN"

Can be obtained only during holiday events

Paint:

Rarity: Very Rare

Found at: Floppy with coordinates event, Raiding

COMMON

PATTERN "CHRISTMAS"

Can be obtained only during holiday events

Paint:

Rarity: Very Rare

Found at: Floppy with coordinates event, Raiding and Claus at Snow Field

COMMON

PATTERN "CHINESE DRAGON"

Can be obtained only during holiday events

Paint:

Rarity: Very Rare

Found at: Buying in the In-Game Shop during Chinese New Year 2019 event for a limited time.

COMMON

PATTERN "BRAZIL"

Can be obtained only during holiday events

Paint:

Rarity: Very Rare

Found at: Lucas' House exchanging Pins, Threads and Belt for reputation, during Brazilian Carnival 2019 event.

COMMON

PATTERN "CARNIVAL"

Can be obtained only during holiday events

Paint:

Rarity: Very Rare

Found at: Buying in the In-Game Shop during the Brazilian Carnival 2019 event for a limited time.

COMMON

PATTERN «LAST DAY ON EARTH»

Can be obtained only during holiday events

Paint:

Rarity: Very Rare

Found at: Partybus completing tasks of Day 7 during Last Day on Earth: Survival's second anniversary event.

COMMON

PATTERN "KHOKHLOMA"

Can be obtained for upgrading bike

Paint:

Rarity: Rare

RARE

MODEL "PARAGON"

Can be obtained at the Gas Station in Season 1

Paint:

Rarity: Very Rare

Found at:

Gas Station exchanging these items with Lenny for a limited time (From the beginning of Season 1, in the beginning until 23:59 UTC September 1, 2019, then extended until 23:59 UTC September 15, 2019):

RARE

MODEL "LEVIATHAN"

Can be obtained for upgrading bike

Paint:

Rarity: Rare

RARE

MODEL "VIPER BLUE"

Can be obtained for tasks of Season 1

Paint:

Rarity: Very Rare

RARE

MODEL "VIPER RAINBOW"

Can be obtained for upgrading bike

Paint:

Rarity: Rare

RARE

MODEL "VIPER YELLOW"

Can be obtained for tasks of Season 1

Paint:

Rarity: Very Rare

RARE

MODEL "POLICE BIKE"

Can be obtained from zombies in wave 99 at the police station

Paint:

Rarity: Rare

RARE

MODEL "MILITARY BIKE"

Can be obtained from an infected box for a floppy

Paint:

Rarity: Very Rare

Found at: Can be obtained by trading Unusual sample for coupons at Bar "Last Stop" during Season 15

RARE

MODEL "OFF-ROAD BIKE"

Can be obtained in some events on the map

Paint:

Rarity: Very Rare

Found at:

RARE

MODEL "EVOLUTION"

Can be obtained for tasks of Season 2

Paint:

Rarity: Very Rare

RARE

MODEL "SHRIMP"

Can be obtained at the gas station in Season 2

Paint:

Rarity: Very Rare

Found at: Gas Station exchanging these items with Lenny for a limited time (From the beginning of Season 2 until 23:59 UTC October 20, 2019):

COMMON

PATTERN "VIRUS"

Can be obtained for tasks of Season 2

Paint:

Rarity: Very Rare

RARE

MODEL "BAT-BIKE"

Can be obtained from Spooky Pack

Paint:

Rarity: Very Rare

Found at: Buying in the In-Game Shop Spooky Pack during Halloween 2019 event for a limited time.

RARE

MODEL "THE LUCKY ONE"

Can be obtained at the Gas station in Season 3

Paint:

Rarity: Very Rare

Found at: Gas Station exchanging these items with Lenny for a limited time (From the beginning of Season 3, in the beginning until 23:59 UTC December 14, 2019, then extended until 23:59 UTC January 9, 2020):

RARE

MODEL "ENDURO"

Can be obtained for tasks of Season 3

Paint:

Rarity: Very Rare

RARE

MODEL "BAYOU"

Can be obtained for tasks of Season 3

Paint:

Rarity: Very Rare Found at: Can be obtained in Scavenger's crate for participating in "Horace's bounty"

RARE

MODEL "GINGERBREAD"

Can be obtained for tasks of Season 4

Paint:

Rarity: Very Rare

RARE

MODEL "ICE CREAM CART"

Can be obtained for top ranking in Season 4

Paint:

Rarity: Very Rare

RARE

MODEL "SNOWBIKE"

Can be obtained for tasks of Season 4

Paint:

Rarity: Very Rare

White Lightcycle

RARE

MODEL "WHITE LIGHTCYCLE"

Can be obtained for tasks of Season 5

Paint:

Rarity: Very Rare

Black Snowbike

RARE

MODEL "BLACK SNOWBIKE"

Can be obtained for tasks of Season 5

Paint:

Rarity: Very Rare

Trike

RARE

MODEL "TRIKE"

Can be obtained for tasks of Season 6

Paint:

Rarity: Very Rare

Rickshaw

RARE

MODEL "RICKSHAW"

Can be obtained for tasks of Season 6

Paint:

Rarity: Very Rare

Roadrunner

RARE

MODEL "ROADRUNNER"

Can be obtained at the Gas station in Season 6

Paint:

Rarity: Very Rare

Found at: Gas Station exchanging these items with Lenny for a limited time during the Season 6, until 23:59 UTC April 8, 2020:

Farmer

RARE

MODEL "FARMER"

Can be obtained for tasks of Season 7

Paint:

Rarity: Very Rare

Iron warrior

RARE

MODEL "IRON WARRIOR"

Can be obtained for tasks of Season 7

Paint:

Rarity: Very Rare

Phantom

RARE

MODEL "PHANTOM"

Can be obtained in a giveaway on Twitch

Paint:

Rarity: Very Rare

Xenos

RARE

MODEL "XENOS "

Can be obtained in the "Anniversary pack 2020"

Paint:

Rarity: Very Rare

Found at: Buying in the In-Game Shop Anniversary pack 2020 for a limited time during the Season 8, until 23:59 UTC June 14, 2020.

Cake

RARE

MODEL "CAKE"

Can be obtained at the Gas Station in Season 8

Paint:

Rarity: Very Rare

Found at: Gas Station exchanging these items with Lenny for a limited time during the Season 8, until 23:59 UTC July 1, 2020:

Classic

RARE

MODEL "CLASSIC"

Can be obtained for tasks of Season 8

Paint:

Rarity: Very Rare

Dragster

RARE

MODEL "DRAGSTER"

Can be obtained for tasks of Season 8

Paint:

Rarity: Very Rare

Savage

RARE

MODEL "SAVAGE"

Can be obtained for tasks in Season 9

Paint:

Rarity: Very Rare

Nitro

RARE

MODEL "NITRO"

Can be obtained for tasks in Season 9

Paint:

Rarity: Very Rare

Tiger

RARE

MODEL "TIGER"

Can be obtained for tasks of Season 10

Paint:

Rarity: Very Rare

Genesis

RARE

MODEL "GENESIS"

Can be obtained for tasks of Season 10

Paint:

Rarity: Very Rare

Zombie Killa

RARE

MODEL "ZOMBIE KILLA"

Can be obtained for tasks of Season 10

Paint:

Rarity: Very Rare

Lightning

RARE

MODEL "LIGHTNING"

Can be obtained via Amazon Prime

Paint:

Rarity: Very Rare

Striker

RARE

MODEL "STRIKER"

Can be obtained for tasks of Season 11

Paint:

Rarity: Very Rare

The Loco

RARE

MODEL "THE LOCO"

Can be obtained for tasks of Season 12

Paint:

Rarity: Very Rare

Commander

RARE

MODEL "COMMANDER"

Can be obtained for tasks of Season 12

Paint:

Rarity: Very Rare

Arachne

RARE

MODEL "ARACHNE"

Can be obtained from Legendary Strander's Pack

Paint:

Rarity: Very Rare

Bike-o'-Lantern

RARE

MODEL "BIKE-O'-LANTERN"

Can be obtained in the in-game store

Paint:

Rarity: Very Rare

Found at: Buying in the In-Game Shop Halloween container for a limited time during the Season 12.

Gas Station exchanging these items with Lenny for a limited time (From the beginning of Season 17, in the beginning until 23:59 UTC October 31, 2021):

Rudolph

RARE

MODEL "RUDOLPH"

Can be obtained in the in-game store

Paint:

Rarity: Very Rare

Found at: Buying in the In-Game Shop New Year madness for a limited time, from 00:00 UTC December 28, 2020 until 23:59 UTC January 3, 2021 during the Season 13.

Justice

RARE

MODEL "JUSTICE"

Can be obtained for tasks of Season 13

Paint:

Rarity: Very Rare

Caramel

RARE

MODEL "CARAMEL"

Can be obtained for tasks of Season 13

Paint:

Rarity: Very Rare

Voyage

RARE

MODEL "VOYAGE"

Can be obtained for tasks of Season 13

Paint:

Rarity: Very Rare

Interceptor

RARE

MODEL "INTERCEPTOR"

Can be obtained for Genesis Delivery reputation level

Paint:

Rarity: Very Rare

Bells

RARE

MODEL "BELLS"

Can be obtained for participating in Christmas activities

Paint:

Rarity: Very Rare

Found at: Gas Station exchanging these items with Lenny for a limited time (From the beginning of Season 13 until 23:59 UTC January 20, 2021):

The Buzzard

RARE

MODEL "THE BUZZARD"

Can be obtained from Nat the Fighter for dog tags

Paint:

Rarity: Very Rare

Bolt

RARE

MODEL "BOLT"

Can be obtained for tasks of Season 14

Paint:

Rarity: Very Rare

Chief

RARE

MODEL "CHIEF"

Can be obtained for tasks of Season 14

Paint:

Rarity: Very Rare

Ronin

RARE

MODEL "RONIN"

Can be obtained for tasks of Season 14

Paint: Rarity: Very Rare

Caustic

RARE

MODEL "CAUSTIC"

Can be obtained via Amazon Prime

Paint:

Rarity: Very Rare

Punk

RARE

MODEL "PUNK"

Can be obtained via Amazon Prime

Paint:

Rarity: Very Rare

Metal Cutter

RARE

MODEL "METAL CUTTER"

Can be obtained in True Metalhead Pack

Paint:

Rarity: Very Rare

Saboteur

RARE

MODEL "SABOTEUR"

Can be obtained for tasks of Season 15

Paint:

Rarity: Very Rare

Tranquility

RARE

MODEL "TRANQUILITY"

Can be obtained in "On Vacation!" Pack

Paint:

Rarity: Very Rare

Tsunami

RARE

MODEL "TSUNAMI"

Can be obtained for tasks of Season 15

Paint:

Rarity: Very Rare

RARE

MODEL "CAMO"

Can be obtained for tasks of Season 16

Paint:

Rarity: Very Rare

RARE

MODEL "DIABLO"

Can be obtained for tasks of Season 16

Paint:

Rarity: Very Rare

RARE

MODEL "BOMBARDIER"

Can be obtained for tasks of Season 16

Paint:

Rarity: Very Rare

RARE

MODEL "DEER HUNTER"

Can be obtained in Pathfinder's Pack

Paint:

Rarity: Very Rare

RARE

MODEL "HAULER"

Can be obtained for tasks of Season 17

Paint:

Rarity: Very Rare

RARE

MODEL "EDGE"

Can be obtained for tasks of Season 17

Paint:

Rarity: Very Rare

RARE

MODEL "DRIFTER"

Can be obtained for tasks of Season 17

Paint:

Rarity: Very Rare

RARE

MODEL "OLDIE"

Can be obtained for tasks of Season 17

Paint:

Rarity: Very Rare

Art Deco

RARE

MODEL "ART DECO"

Can be obtained for VIP status

Paint: Painted for free

Rarity: Common

Old School

RARE

MODEL "OLD SCHOOL"

Can be obtained for participating in "Horace's bounty"

Paint:

Rarity: Very Rare

Alaska

RARE

MODEL "ALASKA"

Can be obtained in the in-game store

Paint: Painted for free

Rarity: Very Rare

Legacy

RARE

MODEL "LEGACY"

Can be obtained for tasks of Season 18

Paint:

Rarity: Very Rare

Hornet

RARE

MODEL "HORNET"

Can be obtained for tasks of Season 18

Paint:

Rarity: Very Rare

Polaris

RARE

MODEL "POLARIS"

Can be obtained for tasks of Season 18

Paint:

Rarity: Very Rare

Orchid

RARE

MODEL "ORCHID"

Can be obtained for tasks of Lunar New Year

Paint:

Rarity: Very Rare

Samurai

RARE

MODEL "SAMURAI"

Can be obtained for tasks of Season 20

Paint:

Rarity: Very Rare

Catcher

RARE

MODEL "CATCHER"

Can be obtained in the event calendar store

Paint:

Rarity: Very Rare

Pilgrim

RARE

MODEL "PILGRIM"

Season 21 reward.
Can be found among the Event Calendar rewards

Paint:

Rarity: Very Rare

Resistor

RARE

MODEL "RESISTOR"

Can be found among the Event Calendar rewards

Paint:

Rarity: Very Rare

Primavera

RARE

MODEL "PRIMAVERA"

Can be found among the Event Calendar rewards

Paint:

Rarity: Very Rare

Kinetik

RARE

MODEL "KINETIK"

Season 22 reward.
Can be found among the Event Calendar rewards

Paint:

Rarity: Very Rare

Mint

RARE

MODEL "MINT"

Season 23 reward.
Can be found among the Event Calendar rewards

Paint:

Rarity: Very Rare

Bumblebee

RARE

MODEL "BUMBLEBEE"

Can be found among the Event Calendar rewards

Paint:

Rarity: Very Rare

Pearl

RARE

MODEL "PEARL"

Can be found among the Event Calendar rewards

Paint:

Rarity: Very Rare
Trivia
Removed the preview design in Beta v.1.9.6
Reintroduced the preview design in Beta v.1.9.7
Pattern "Halloween'17" changed to "Halloween" in Beta v.1.10
Pattern "Christmas'17" changed to "Christmas" in Beta v.1.10.3
Pattern "Blue" changed to "Standard" in Beta v.1.10.3
Changed the preview designs and skins in Beta v.1.11.1
Introduced Pattern "Chinese Dragon" in Beta v.1.11.5
Introduced Pattern "Brazil" and "Carnival" in Beta v.1.11.6
Introduced Pattern «Last Day on Earth» in Beta v.1.12
Introduced Pattern "Khokhloma" and Model "Paragon", Model "Leviathan", Model "Viper Blue", Model "Viper Rainbow" and Model "Viper Yellow" in Beta v.1.14
Changed quantity of paints in Beta v.1.14
Introduced Model "Evolution", Model "Shrimp" and Pattern "Virus" in Beta v.1.14.3
Introduced Model "Bat-bike" in Beta v.1.14.5
Introduced Model "The Lucky One", Model "Enduro" and Model "Bayou" in Beta v.1.15
Introduced Model "Gingerbread", Model "Ice Cream Cart" and Model "Snowbike" in Beta v.1.15.1
Introduced Model "White Lightcycle" and Model "Black Snowbike" in Beta v.1.16
Introduced Model "Trike", Model "Rickshaw" and Model "Roadrunner" in Beta v.1.16.4
Introduced Model "Farmer" and Model "Iron warrior" in Beta v.1.16.5
Introduced Model "Phantom", Model "Xenos ", Model "Cake", Model "Classic" and Model "Dragster" in Beta v.1.17
Introduced Model "Savage" and Model "Nitro" in Beta v.1.17.1
Introduced Model "Tiger", Model "Genesis", Model "Zombie Killa" and Model "Lightning" in Beta v.1.17.2
Introduced Model "Striker" in Beta v.1.17.3
Introduced Model "The Loco", Model "Commander", Model "Arachne" and Model "Bike-o'-Lantern" in Beta v.1.17.5
Introduced Model "Rudolph", Model "Justice", Model "Caramel", Model "Voyage", Model "Interceptor" and Model "Bells" in Beta v.1.17.6
Introduced Model "The Buzzard" in Beta v.1.17.9
Introduced Model "Bolt", Model "Chief", Model "Ronin", Model "Caustic", and Model "Punk" in Beta v.1.17.10
Introduced Model "Metal Cutter", Model "Saboteur", Model "Tranquility", and Model "Tsunami" in Beta v.1.18
Introduced Model "Camo", Model "Diablo", Model "Bombardier", and Model "Deer hunter" in Beta v.1.18.4
Introduced Model "Hauler", Model "Edge", Model "Drifter", and Model "Oldie" in Beta v.1.18.7
Introduced Model "Art Deco" in Beta v.1.18.9
Introduced Model "Old School" in Beta v.1.18.10
Introduced Model "Alaska", Model "Legacy", Model "Hornet", and Model "Polaris" in Beta v.1.18.11
Introduced Model "Orchid", Model "Samurai", and Model "Catcher" in Beta v.1.18.12
Introduced Model "Pilgrim", Model "Resistor", and Model "Primavera" in Beta v.1.18.14
Bike descriptions changed in Beta v.1.18.14
Introduced Model "Kinetik", Model "Mint", Model "Bumblebee", and Model "Pearl" in Beta v.1.18.15 or Beta v.1.18.16
The Pattern was in the picture for the Box of Spares pack but people who bought this reported that they didn't get it in the pack. The pack was then quickly removed, possibly when the developers realized the mistake.
You can only get the Police Bike Pattern once. Once learned you won't get the pattern duplicates even if you do 99 waves again.
The Evolution Bike is the first bike to have a special infected effect on the ground while the bike is being driven, the second one being the Bat-bike. But the latter's effect was quickly removed after possibly when the developers realized it was a mistake.
The Lucky One Bike was called The Luckly One on the chopper selection list.
The Enduro Bike is the first bike to have a unique sound effect, White Lightcycle is the second. Although The Ice Cream Cart have the same sound effect as any other bike, it has a unique soundtrack playing when riding it.
The Lucky One Bike had a bug when selected. If you select another bike model/pattern after that, the bike will have a light effect that the Lucky One Bike has.
Design of the Police Bike it is similar 2005 BMW R 1200 RT
Gallery