Notice: Partybus is unavailable and was removed automatically from the game in version Beta v.1.12 after end of the event.
Description
The Partybus was a temporary location on the Global Map in the game Last Day on Earth: Survival's second anniversary!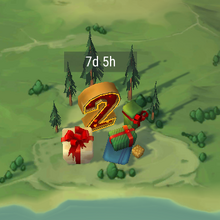 Resources
Enemies
"Hi! Could you help me prepare for the
celebration? Were a little
shorthanded here."
"Great, that's all for today. Take your
reward from the box and come back
tomorrow!"
Complete all tasks and get a reward
Dealer tasks
Day 1
Uninvited guests can spoil the celebration, so kill all the zombies in the area.
What happened to Tom that made him so gloomy? Bring him some booze, maybe it'll cheer him up
I've got a recipe of wicked booze for our celebration. I trust you to brew the first batch.
Day 2
Lucas is going overboard. Can you calm him down? But don't knock him around too much.
Alcohol has to be tried before the celebration. Jack will manage perfectly, give him a couple of bottles.
We won't get anywhere with these layabouts that can't even bring logs. Find some yourself and light fires.
Day 3
I've heard Healer needs something from you. Talk to him when you have time.
Have you seen Tom? Went somewhere yesterday and I'm starting to get worried. Find him if you can.

Exit the location, Forest road will appear go there and find the Chopper, return to Partybus.
Engineer just got a scratch but he pretends he got a fatal wound. Get him something to drink and heal him a little bit.
Day 4
Tom hasn't been himself since he came back from the forest. Calm him down now before someone gets hurt.
Healer is preparing something strange and he needs some special ingredients for inspiration. Bring him something of our production.
Engineer has set a turret for defending from zombies, but there's an issue - it doesn't work. Check what can be done.
Day 5
Engineer needs some resources for another ambitious plan. Find everything he needs.
Lucas is having a bad hangover after yesterday's bender. Bring him some hair of the dog that bit him to get better.
To scare zombies away and make it a little cozier place, we have to keep the fire burning. Go and rekindle all the fires.
Day 6
Without the leader, raiders will stay away from here. Thanks for help.
Mike is heavily wounded, ask the others if he needs anything.
The hunter said she is looking for you. Go and find out what she wants.
Day 7
I told them right away that the cage wouldn't hold such a bull. Without you we couldn't have managed.
Jack said he's done with the fireworks, all that's left is to light the fuse.
You've been helping us a lot all this time, and I'd like to return the favor. Find my hideout in the forest and take whatever you want.

Exit the location, Dealer's hideout will appear go there and find the buried box, return to Partybus.
Dealer rewards
Day 1
Day 2
Day 3
Day 4
Day 5
Day 6
Day 7
Extra
Handmade Brewery
Recipes:
Needs Pine Log, Pine Plank or Charcoal
Trivia
Gallery
Community content is available under
CC-BY-SA
unless otherwise noted.