Notice: Lucas' House is unavailable and was removed automatically from the game in version Beta v.1.11.7 after end of the event.
Description
Lucas' House was an event location on the Global Map.
Lucas' House is a time limited 8 hour event that spawns once a day.
This event will end March 8th, so be sure to give all your items to Lucas before then!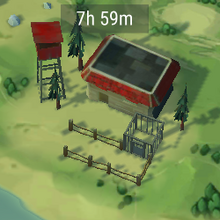 "I'm going to have a little party." - Lucas
"Help me make costumes." - Lucas
"Almost ready, come a bit later." - Lucas
"I have some rewards left." - Lucas
Reward
Lucas works just like the Specialist. Put items in, reach next level, take reward.
Lucas exchange for Reputation: Pins 2 points, Threads 1 point and Belt 3 points.
Lucas will give you a reward each time you level up your Reputation. 115 points are required for each level.
After reach lvl. 15 you can continue exchange items for Energy Drink
Exit and enter from Lucas' House. Lucas will ride in your Chopper with Pattern "Brazil" in front with zombies with the fantasies as Carnival parade.
After the parade, these zombies with fantasies will appears in resources zones.
lvl. 115 points
lvl. 230 points
lvl. 345 points
lvl. 460 points
lvl. 575 points
lvl. 690 points
lvl. 805 points
lvl. 920 points
lvl. 1035 points
lvl. 1150 points
lvl. 1265 points
lvl. 1380 points

Extremely rare modification blueprint

Sight x4 AK-47

lvl. 1495 points
lvl. 1610 points
lvl. 1725 points
Resources
Trivia
Gallery
Community content is available under
CC-BY-SA
unless otherwise noted.