Last Day on Earth: Survival is an upcoming survivor sandbox game developed by Kefir Games. The game is currently in Beta v.1.15.1 and is available on Android and iOS. This wiki is a collaborative resource for the game and is maintained by the contributions of the fans. Feel free to use our Discussions to discuss gameplay. Please don't create a new article with personal opinion, use the blog post for this.
Help
•
Terms of Use
•
Administrators
•
Categories
•
All pages
•
Wanted Pages
•
Special pages
•
Toolbar
•
File list
The Last Day on Earth: Survival Wiki is a collaborative resource about Last Day on Earth: Survival that anyone can edit. Our wiki was created in May 29, 2017. We are currently editing over 1,093 articles, 48,161 edits, 3,777 files, and you can help! All editors are welcome. Come join our community!
| | | | |
| --- | --- | --- | --- |
| Equipment | Crafting | Gameplay | Other Things |
Season 5
•
Season 4
•
Season 3
•
Season 2
•
Barker's Camp
•
Infected Zone
•
Survivors' Camp
•
Infected Base
•
Research Area
•
Temporary Base
•
Core of Infection
•
Harpoon
•
Infected Cleaver
•
Infected Machete
•
Infected Saw Blade Mace
•
Infected Flesh
•
Infected Specimen
•
Gas Station
•
Season 1
•
Wrecked ship
•
Note
•
Abandoned camp
•
Sailor
•
Petty Officer
•
Midshipman
•
Captain
•
Rotfeast
•
Butcher
•
Chilly Willy
•
Nauseous Tommy
•
Charlie Jr.
•
Charlie Sr.
•
Motorcycle Helmet
•
Bandana
•
Biker Vest
•
Biker Magazine
•
Basements
•
Camp. Sector 7
Season 5: Soon!
Winter is in full swing! And this means that snowballs must be kept ready. New Year trials are coming!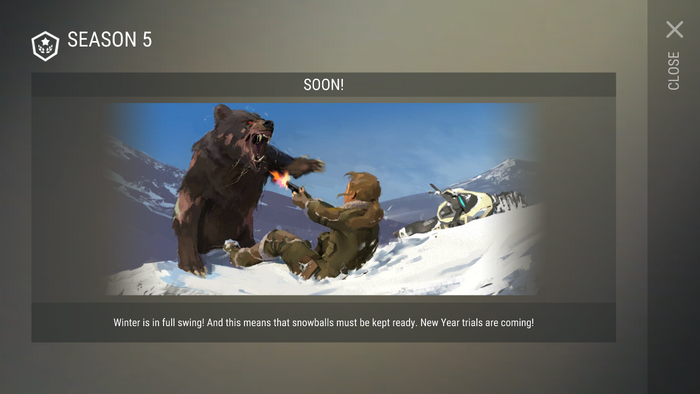 Season 4: New Year.
Ho-ho-ho survivors! The festive time of holidays, cool presents and bright decorations is finally here and it's all beautifully wrapped in Season 4. Are you ready for adventures? Then put on your ugly Christmas sweaters and Geronimo!

https://www.facebook.com/notes/last-day-on-earth/season-4-new-year/1081422035528951/
NEW IN VERSION 1.15.1
NICK SANTY'S HOUSE
The holiday season with gifts and decorations is already here and so is Season 4 in our
zombie apocalypse! The main festivities will take place on the location Nick Santy's
House, where your old friend will be waiting for you.
CHRISTMAS TREE DECORATIONS
Nick announces a contest among players! He has a Christmas tree at his place that's
perfect for the holidays. Get Christmas decorations, decorate the tree with refined and
rare ornaments, earn points and get to the player tops that will get the coolest prizes at
the end of the season! The more points you'll get, the higher your ranking will be and the
more rewards you will get when the season ends. Don't slow down till the very end - the
last contest day will be the last but definitely not least.
ORNAMENTS REFINE
Taking part in the contest on decorating the Christmas tree will require different
decorations. In order to succeed in decorating the tree you'll need two workbenches for
ornament recycling and refining located at Nick Santy's place. Nick Santy's Workbench
increases the value of ornaments for ranking and gets you more points for them. Their
refine and level-up is carried out with ornament parts. You can get these parts as well as
Christmas tree decorations from killed zombies, find them in chests, season event
locations, and the most valuable and rare ones are hidden in bunkers Alfa and Bravo, at
the Farm, at the Police Station. The second workbench will let you recycle those
ornaments you don't need to get parts for refining. Upgrade your ornaments and let your
tree shine brightest!
CAMERA
Old man Nick got way too sentimental. Says, he got an old but working camera and put it
at his place so that survivors could take pictures of themselves in front of their amazing
decorated Christmas tree, and then share the pictures on social media. That's so cute!
SEASON LOCATIONS
Other winter activities will be taken over by the 3 season locations - Frozen Wood, Snowy
Forest Edge, Snow Valley. There are different events waiting for you as well as holiday
zombies with bosses. Some of them might be familiar to you from last Christmas. The
locations start one by one every season week and will be active until the season ends.
You can visit them twice a day. All these places are frosty so put on warm clothes and
get a bottle of strong alcohol with you. Or more.
NEW SKINS FOR MOTORCYCLE
The Christmas season presents some new skins for bikes while the incredible
gingerbread Chopper will immerse you in tender childhood memories when Granny would
bake you tasty cookies and different treats. And now you can run down zombies on a
gingerbread motorcycle, yippee!
With the game in such early development stages, this wiki will help you keep up with the changes and additions that come with each patch. You'll find tips and guides for pros and beginners alike, stats for all your weapons/armor/enemies, and anything else you might need to make it through this particular Apocalypse. Since the game is still in early BETA, you can use a number of resources to stay current on patches, updates, and news. Check out the official Facebook Last Day on Earth and Twitter LastDaySurvival pages, or head on over to the subreddits Reddit LDESurvival and/or Reddit LastDayonEarthGame for access to more LDE:S goodness. You'll also find links to other Discord, Facebook, and Forum communities.
Discord • Facebook • Reddit • Telegram • Twitter • VK
If you like Last Day on Earth: Survival, check out these other games: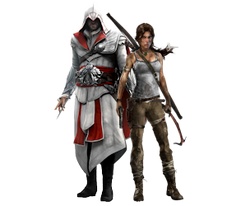 Community content is available under
CC-BY-SA
unless otherwise noted.