Notice: Infected Junkyard is unavailable and was removed automatically from the game in version Beta v.1.11.3 after end of the event.
Description
Infected Junkyard was an event location on the Global Map during Christmas 2018.
Infected Junkyard is a time limited 12 hour event. Will appears only after defeating Claus in Snow Field.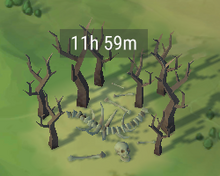 Note: Location available from level 25
MICKEY'S NOTES
Gotta seize the moment! Looks like that giant is snared. If I manage to exploit his stupidity and agression successfully, I'll pull it off without a single shot. Apparently, he was trying to hide something, but was scared away.
Enemies
Kramp 1000 HP
Crawler 100 HP 0 Armor
Explosve Barrel 2000 HP

Crawler hordes will appear attack does 20, 30 damage

Parasite 100 HP 0 Armor 100 damage

4 will appear after each barrel explode

5 barrels with 400 damage will explode when Kramp crash them
7 thorns on ground does 10 damage inside

2 thorns on ground does 10 damage outside
Resources
Video Guides
Trivia
Gallery
Community content is available under
CC-BY-SA
unless otherwise noted.