Notice: Holiday van is outdated and was removed from the game in version Beta v.1.7.2. Everything in this article refers to the game before version Beta v.1.7.2.
Description
The Holiday Van was a location is where Nick Santy's van crashed during the Christmas 2017 holiday event.
When you first enter, Nick Santy is alone, with three Roaming Zombies, at the location. After you've rescued Santy's three lost reindeer, they will also wait at this location.
Though the location appears to be a snowy biome, you don't get cold or freeze there, even if underdressed or naked.
The location also includes a few pine trees.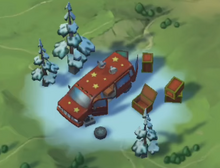 "Don't stay frozen like this! Help me!" - Nick Santy
"What snowstorm brought you here, thank you!" - Nick Santy
"I think I got stuck in here. Will you help?" - Nick Santy
To get to Santy, you will have to fight through three Roaming Zombies. After you help Santy kill the zombies, he will ask if you were naughty or nice this year.
If you reply that you were nice, he will remark that he never doubted you and will give you a Tactical Cap, Tactical Body Armor, Tactical Trousers, Tactical Boots, VSS Vintorez, and 20 Roasted Turkey. Answering "naughty" will prompt him to tell you, "Don't be shy, you won't fool me", and you get the same "Amazing gift".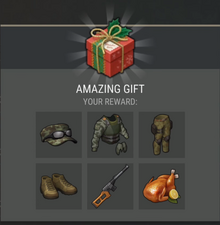 But if you have hacked or modded the game, you may instead receive the "Unexpected Gift" (a Berry, a Baseball Bat, some Charcoal, a Limestone, some Scrap Metal, and an Empty Can) and will gain an unremovable dunce Cap that says "CHEATER". (In-game description: "Deserved reward for bad behavior. Impossible to take it off")
(The gifts are delivered in your inbox.)
Activities
There are several interactive elements at the Holiday Van location, including:
Santy's Store
You can earn points for use in Nick Santy's store by putting Steel Plate, Iron Plate, and Gasoline in his van; feeding Carrots, Cones, and Holly to his reindeer; and dropping ornaments made at the Nick Santy Workbench (Wooden Toys, Handmade Jar Toys, and Bells) into Santy's Box with Ornaments.
(You can also buy the Modulator from Santy and use it to reset Bunker Alfa.)
Trivia
Community content is available under
CC-BY-SA
unless otherwise noted.