Notice: Greg's Barn is unavailable and was removed automatically from the game in version Beta v.1.11.3 after end of the event.
Description
Greg's Barn was an event location on the Global Map during Christmas 2018.
Greg's Barn is a time limited 6 hour event. Will appears only after defeating Kramp in Infected Junkyard.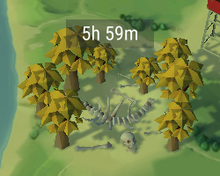 Note: Location available from level 25
AVIS JOURNAL
I saw three zombies pilfering the loot from the raiders' camp. I don't know how, but they communicate with each other. If you can see one, the other is 100% nearby.
That zombie seems to be the weakest of the pack. I'm gonna try to kill it and take off the part of raiders' loot . Easy prey!
Enemies
Resources
Video Guides
Trivia
Gallery
Community content is available under
CC-BY-SA
unless otherwise noted.