"Protects from dangerous gases and smoke"
– In-game description
Description
"Protects from dangerous gases and smoke"
Obtaining
Gas Mask can be obtained from:
The Gas Masks durability will slowly decrease the longer that the player remains in the gas chamber on the 3rd floor of Bunker Alfa.
Note: DO NOT USE GAS MASK FOR ARMOR BEFORE GOING INTO THE GAS CHAMBER!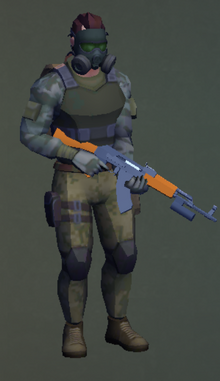 Recycling
On the Recycler, the Gas Mask can be recycled into Plastic, Thick Fabric, and Air Filter in 10 minutes and 1 second at an appropriate level of Clothes recycling skill.
Gallery