"It already looks great, the electricity will make it even better."
—Blueprint description
Description
"Decoration. Can be placed in Build Mode"
This item is for cosmetic decoration only and doesn't give any benefits.
Crafting Requirements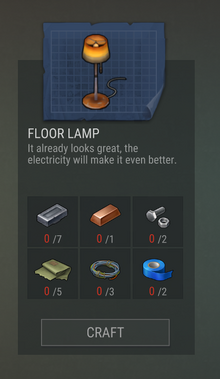 Unlock:
Materials:
Furniture:
Placement: Floor (lvl.1)
Max: 10
Grid Size: 1x1
Orientation: 4 positions
Recycling
On the Recycler, a Floor Lamp can be recycled into Scrap Metal, Thick Fabric, and Wiring in 10 minutes and 1 second at an appropriate level of Other recycling skill.
Gallery