"Too noisy to put inside the house. Assembled after placing on the ground."
—Blueprint description
Description
"Too noisy to put inside the house. Assembled after placing on the ground. Can be placed in Build Mode"
Crafting Requirements
Crafting
There are two stages to crafting the Electric Generator. The first will require a few items, and finalizing it will be a lot more difficult, because it needed about 40 Gasoline.
Unlock:
Materials:
Furniture:
Placement: Ground
Max: 1 (But more than 1 when you get it from raiding.)
Grid Size: 1x1
Orientation: 2 positions
Assembly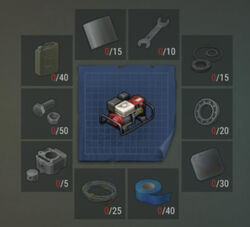 Finalizing Electric Generator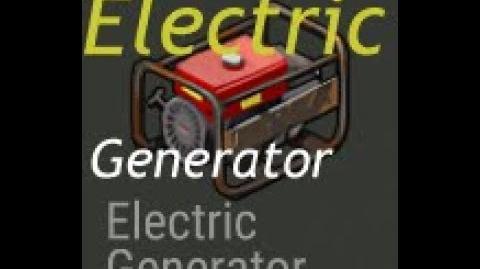 Usage
The only current use for the generator is to restore power to the Watchtower.
A Chopper is needed to deliver the generator to the Watchtower.
You can make two or more, in one time. However, only 1, to place. You can get more when you are: Get the Electric Generator when raiding. This is the only way.
Recycling
On the Recycler, a Electric Generator crafting can be recycled into a Bolts, Iron Plate, and Aluminium Bar in 10 minutes and 1 second at an appropriate level of Other recycling skill.
On the Recycler, a Electric Generator assembled can be recycled into Aluminium Plate, Engine Part, and Bottle with Gasoline in 1 hour and 30 minutes at an appropriate level of Mechanics recycling skill.
Trivia
Since Beta v.1.9.4, you can recycle the Electric Generator obtained from raids
Before Beta v.1.6

Blueprint description: "Required to put electricity into the house."
Crafting materials:

Since Beta v.1.14 you can have limited quantity (5) of this item at your Home

"I got too many of such items at my base"
Gallery
Community content is available under
CC-BY-SA
unless otherwise noted.