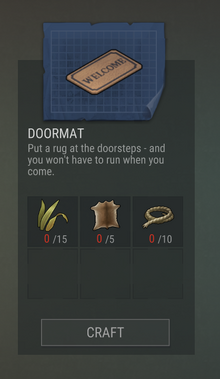 "Put a rug at the doorsteps - and you won't have to run when you come."
—Blueprint description
Description
"Decoration. Can be placed in Build Mode"
The Doormat changes your spawn location when you "enter" your base. No longer do you appear at the edge of your base map, but wherever you placed the Doormat.
Crafting Requirements
Unlock:
Materials:
Furniture:
Placement: Ground (Only)
Max: 1
Grid Size: 1x1
Orientation: 4 positions
Use
Setting Home-Base Spawn
A Doormat can be used to set your spawn point in your Home base when placed. Instead of spawning near the edge of the area, you spawn on the Doormat.
Recycling
On the Recycler, a Doormat can be recycled into Animal Rawhide, and Rope in 10 minutes and 1 second at an appropriate level of Other recycling skill.
Trivia
Gallery