"Thanks to it life will become more comfortable as in good old times."
– Blueprint description
Description
"Furniture. Can be placed in Build Mode"
Just decoration, the character cannot interact.
Crafting Requirements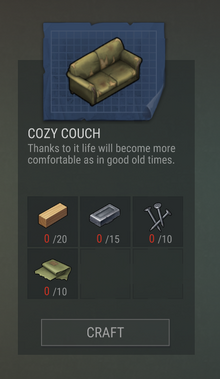 Unlock:
Materials:
Furniture:
Placement: Plank Floor (lvl.2)
Max: 4
Grid Size: 1x1
Orientation: 4 positions
Recycling
On the Recycler, a Cozy Couch can be recycled into Oak Plank, Scrap Metal, and Thick Fabric in 10 minutes and 1 second at an appropriate level of Other recycling skill.
Gallery