"Allows keeping even more things you need. Allows storing up to 25 items."
– Blueprint description
Description
"Allows keeping even more things you need. Can be placed in Build Mode"
Since Beta v.1.11.6 - Small Box needs to be crafted and upgraded first.
A Chest is a furniture used for storing items.
Can hold up to 25 stacks or items.
Furniture
Placement: Plank Floor (lvl.2)
Grid Size: 1x1
Max: 40
Capacity: 25 slots
Orientation: 4 positions
Use
The Chest is used in the following blueprints
Chest is used to upgrade to Trunk: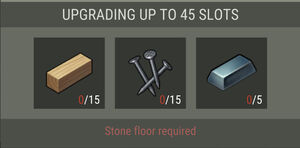 Appearance
Repaint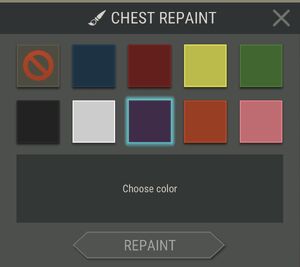 Chest can be painted by pressing the button in the top right corner when interacting with the Chest. The following options are available:
Logo/Icon
Logo/Icon on the Chest depends on the type of item stored inside.
Note:

If more than 1 type of items are stored together, then the logo/icon will be decided by the type of items that occupy the most storage slots.
If the types of items occupy the storage slots evenly, then the logo/icon will be decided by the first type of item stored.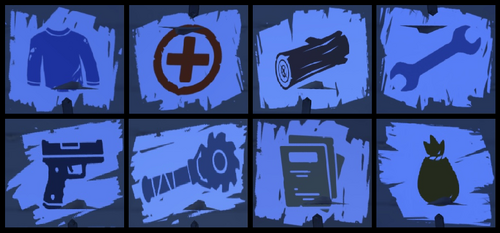 Recycling
On the Recycler, a Chest can be recycled into a Common Plank, Scrap Metal, and Bolts in 10 minutes and 1 second at an appropriate level of Other recycling skill.
Crafting Requirements (before Beta v.1.11.6)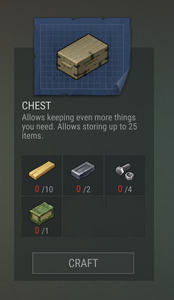 Unlock:
Materials:
Furniture:
Placement: Plank Floor (lvl.2)
Grid Size: 1x1
Max: 40
Capacity: 25 slots
Orientation: 4 positions
Trivia
Chest with items inside can't be stored while in Base Builder mode.
Before Beta v.1.6

Blueprint description: "Allows keeping even more things you need. Allows storing up to 16 items."
Capacity: increase 16 to 25 slots

On the bottom of the chest there is a writing "3A" and "4A". Paint your chest with different colours.
Inside the chest there is a "saw" button on the right corner that allows you to change the color of the chest; the cost is cans of spray paint.
Blueprint was removed from the game in Beta v.1.11.6
Gallery