Notice: Catrina's Cemetery is unavailable and was removed automatically from the game in version Beta v.1.10.1 after end of the event.
Description
Catrina's Cemetery was an event location on the Global Map during Halloween 2018.
Catrina's Cemetery is a time limited 8 hour event that spawns once a day.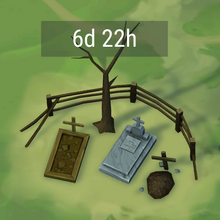 "The holiday event "Catrina's Cemetery" appears on the map every day and is available for completing for 8 hours."
"During the holiday events dedicated to the Day of the Dead, Catrina's cemetery can be found on the map. If you help her honor the local dead, you can get some great reward!"
"Damn, it's dark down here" it's written on the gravestone next to La Catrina and on every Splendid Gravestone you place.
La Catrina
"The better you decorate all graves, the more valuable your reward will be" - La Catrina
"You can make gravestones of 3 kinds on the ritual bench. The more complex the recipe, the better the result. Catrina will appreciate splendid gravestones more."
You need to decorate all the graves, leastwise with 6 Simple Gravestone
Points do not accumulate, location resets together with your points.
Resources
"Great Job! Take your reward from the chest" - La Catrina
"Come tomorrow, we'll decorate other graves - there are lots of them in this forest" - La Catrina
Rewards
150 POINTS 10 items
300 POINTS 12 items
450 POINTS 15 items
600 POINTS 20 items
Gallery
Trivia
Community content is available under
CC-BY-SA
unless otherwise noted.