Weapons are Items that a player can wield to damage and kill Creatures in the game.
Weapons can be crafted, looted, and traded for with the Dealer Joe.
Weapons can not stack in a slot, but a player can equip a weapon in both of their quick access slots.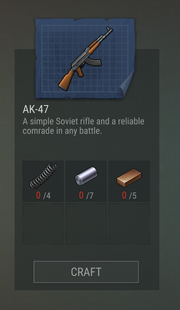 Weapons have durability that decrease as they are used.
NOTE: The Bow and Zip Gun are some of the easily craft-able guns, the Glock 17 can only be crafted if the player has unlocked the Dead Island for one of the resources, while the M16 can only be crafted if the player has the ATV and the Motorboat. The rest of the guns cannot be crafted since they require Tungsten Bar and (or) aren't present on the Blueprints menu.
For more informations of weapons looks Weapons Guide by Salvator24
But not all weapon can be crafted, trade, or by visiting NPC Survivor Base. Some can be raiding and found only.
List

This is a list for known weapons in the game. Please feel free to add weapons as they are discovered in future updates.
Please note that some Items such as the Hatchet have additional uses (in this case as a Tool). Weapons will display their Damage and Speed statistics in game. In addition, the table lists a Damage Per Second (DPS) statistic. This becomes a more important consideration for targets with over 200 HP or armor, and for quickly comparing weapons, e.g. Spear < Torch < Crowbar < Katana.
Sneaking using melee weapons do triple the damage and thus should always be successfully executed on the first attack on a zombie. Note: This doesn't apply on Firearms in ANY case!
#1 Firearms do not get a sneak attack bonus unless modified or with the Wall. Sector 7 boost.
Trending pages
All items (90)