"Allows contacting the dealer, raiders and getting the bunker code."
– Blueprint description
Description
"Allows contacting the dealer, raiders and getting the bunker code."
Information
The CB Radio allows the Dealer to contact you sometimes. He appears on the map when he wants to trade with you.
This is also how you reach the Raiders and accept their offer. The Raiders' station will first appear on the CB Radio five days after you build and place it.
You can check the radio for an access passcode to the lift in Bunker Alfa.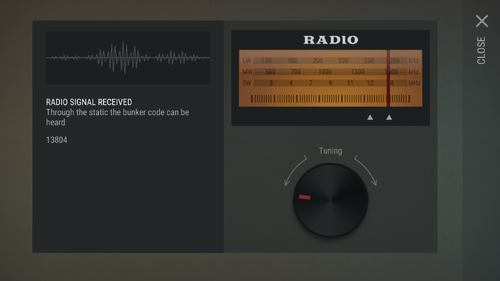 Crafting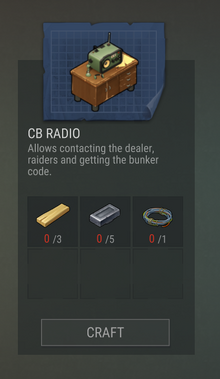 Unlock:
Materials:
Furniture:
Construction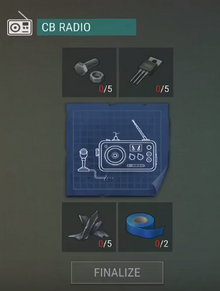 In update Beta v.1.4.8, phase-two construction was added to the CB Radio.
Required materials:
Recycling
On the Recycler, a CB Radio can be recycled into a Common Plank, and Scrap Metal in 10 minutes and 1 second at an appropriate level of Other recycling skill.
Trivia
"Allows to assemble a CB Radio."
– Old Blueprint description
Gallery