This article is under construction and requires more content. You can help our wiki by
expanding it
.
Information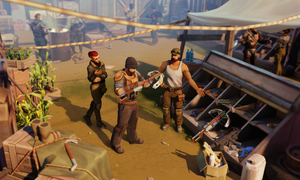 Crater business was introduced in Season 9 and expanded in following multiplayer updates.
The initial location of a shop cannot be changed, and just like in any civilized society, one has to pay taxes – 30% of every sale. Robbery, you say? Well, nobody said that capitalism would be a fair thing.

Trading requires currency. There's gonna be two kinds of it: coupons required for buying items, creating clans, and paying rent; and counterfoils, required for developing business and renting extra storage units.

To run commerce, the government appointed a special person – Business coach (known to his friends as Coach). Stick with that guy and you won't get in trouble. The coach is responsible for the distribution of new recipes for crafting, extra storage units in shops, places for workbenches, and some other things.
Crater Business Price List (before update 1.17.9)

| Item | Categories | Min | min-tax | Suggest | sugg-tax | Max | max-tax |
| --- | --- | --- | --- | --- | --- | --- | --- |
| Acid | materials, refined; items, loot; craftable | 2200 | 1540 | 2950 | 2065 | 3700 | 2590 |
| Adhesive | items, loot; uncraftable | 8 | 5 | 11 | 7 | 17 | 11 |
| Air Filter | items, loot; uncraftable | 130 | 91 | 160 | 112 | 180 | 126 |
| Alcohol | materials, refined; craftable | 8 | 5 | 19 | 13 | 35 | 24 |
| Aluminium Bar | materials, refined; craftable | 51 | 35 | 72 | 50 | 92 | 64 |
| Aluminium Plate | materials, refined; items, loot; craftable | 150 | 105 | 190 | 133 | 270 | 189 |
| Aluminium Wire | materials, refined; items, loot; craftable | 75 | 52 | 92 | 64 | 130 | 91 |
| Antibiotic | healing; uncraftable | 430 | 301 | 660 | 462 | 1000 | 700 |
| Antirad | healing; items, refined, loot; craftable | 2700 | 1890 | 2880 | 2016 | 3000 | 2100 |
| Bandage | healing; items, refined, loot; craftable | 6 | 4 | 10 | 7 | 17 | 11 |
| Basic Backpack | miscellaneous; craftable | 8 | 5 | 12 | 8 | 17 | 11 |
| Batteries | items, loot; uncraftable | 500 | 350 | 560 | 392 | 1200 | 840 |
| Battle Axe | weapons, melee; items, loot; craftable | 1300 | 910 | 1570 | 1099 | 2200 | 1540 |
| Battle Club | weapons, melee; craftable | 420 | 294 | 570 | 399 | 720 | 504 |
| Bauxite | materials, raw; uncraftable | 6 | 4 | 9 | 6 | 15 | 10 |
| Berry | healing, food; materials, raw; uncraftable | 2 | 1 | 3 | 2 | 5 | 3 |
| Berry Tea | drink; items, refined; craftable | 6 | 4 | 9 | 6 | 17 | 11 |
| Bolts | items, loot; uncraftable | 34 | 23 | 43 | 30 | 63 | 44 |
| Boots | armor, tier 1+; craftable | 170 | 119 | 210 | 147 | 300 | 210 |
| Bottle With Dirty Water | drink; items, loot; materials, raw; uncraftable | 18 | 12 | 23 | 16 | 31 | 21 |
| Bottle of Water | drink; items, loot; craftable | 26 | 18 | 30 | 21 | 39 | 27 |
| Camera | items, loot; uncraftable | 500 | 350 | 550 | 385 | 1200 | 840 |
| Canned Food | healing, food; items, loot; uncraftable | 10 | 7 | 20 | 14 | 20 | 14 |
| Charcoal | materials, refined; craftable | 9 | 6 | 13 | 9 | 18 | 12 |
| Cigarettes | items, loot; uncraftable | 510 | 357 | 610 | 427 | 1200 | 840 |
| Cloth | materials, refined; items, loot; craftable | 3 | 2 | 5 | 3 | 11 | 7 |
| Cloth Strips | materials, refined; items, loot; craftable | 31 | 21 | 45 | 31 | 58 | 40 |
| Combat Body Armor | armor, combat; items, loot; craftable | 8500 | 5950 | 8800 | 6160 | 9500 | 6650 |
| Combat Boots | armor, combat; items, loot; craftable | 8500 | 5950 | 9040 | 6320 | 9400 | 6580 |
| Combat Mask | armor, combat; items, loot; craftable | 9100 | 6370 | 9640 | 6748 | 10000 | 7000 |
| Combat Pants | armor, combat; items, loot; craftable | 8500 | 5950 | 9100 | 6370 | 9500 | 6650 |
| Common Log | materials, raw; uncraftable | 2 | 1 | 3 | 2 | 4 | 2 |
| Common Plank | materials, refined; craftable | 9 | 6 | 14 | 9 | 18 | 12 |
| Cooked Steak | healing, food; materials, refined; craftable | 7 | 4 | 11 | 7 | 19 | 13 |
| Crowbar | weapons, melee; craftable | 160 | 112 | 200 | 140 | 220 | 154 |
| Dog tag | items, loot; uncraftable | | | | | | |
| Empty Bottle | items, loot; uncraftable | 4 | 2 | 10 | 7 | 12 | 8 |
| Empty Can | items, loot; uncraftable | 4 | 2 | 7 | 4 | 12 | 8 |
| Flashlight | items, loot; uncraftable | 500 | 350 | 570 | 399 | 1200 | 840 |
| Footwraps | armor, tier 1; items, loot; craftable | 9 | 6 | 13 | 9 | 18 | 12 |
| Glass | materials, refined; items, loot; craftable | 340 | 238 | 440 | 308 | 580 | 406 |
| Golf Club | weapons, melee; items, loot; uncraftable | 660 | 462 | 770 | 539 | 870 | 609 |
| Greaves | armor, tier 1+; craftable | 180 | 126 | 240 | 168 | 300 | 210 |
| Halberd | weapons, melee; items, loot; craftable | 1700 | 1190 | 2220 | 1554 | 3000 | 2100 |
| Handmade Rifle | weapons, firearms; items, loot; craftable | 26000 | 18200 | 27800 | 19460 | 29000 | 20300 |
| Handmade Rifle | weapons, firearms, modded; items, loot; craftable | 33800 | 23660 | 34970 | 24479 | 37700 | 26390 |
| Handmade Shotgun | weapons, firearms; items, loot; craftable | 17000 | 11900 | 18200 | 12740 | 19000 | 13300 |
| Handmade Shotgun | weapons, firearms, modded; items, loot; craftable | 22100 | 15470 | 23880 | 16716 | 25650 | 17955 |
| Hatchet | tools, tier 1; weapons, melee; craftable | 4 | 2 | 8 | 5 | 11 | 7 |
| Hazmat Helmet | armor, hazmat; uncraftable | 1340 | 938 | 1740 | 1218 | 2000 | 1400 |
| Hazmat Jacket | armor, hazmat; uncraftable | 1340 | 938 | 1540 | 1078 | 2000 | 1400 |
| Hazmat Pants | armor, hazmat; uncraftable | 1340 | 938 | 1600 | 1120 | 2000 | 1400 |
| Hazmat Shoes | armor, hazmat; uncraftable | 1340 | 938 | 1740 | 1218 | 2000 | 1400 |
| Heavy Shield + | weapons, firearms; items, loot; uncraftable | 22000 | 15400 | 23500 | 16450 | 25000 | 17500 |
| Heavy Shield + | weapons, firearms, modded; items, loot; uncraftable | 28600 | 20020 | 30160 | 21112 | 32500 | 22750 |
| HK416 | weapons, firearms; items, loot; uncraftable | 50000 | 35000 | 51500 | 36050 | 55000 | 38500 |
| Hockey Stick | weapons, melee; items, loot; uncraftable | 440 | 308 | 480 | 336 | 580 | 406 |
| Hunting Crossbow | weapons, firearms; craftable | 9300 | 6510 | 9650 | 6755 | 10000 | 7000 |
| Iodine | materials, refined; items, loot; craftable | 1700 | 1190 | 2420 | 1694 | 2900 | 2030 |
| Iron Bar | materials, refined; items, loot; craftable | 10 | 7 | 16 | 11 | 20 | 14 |
| Iron Blade | materials, refined; items, loot; craftable | 32 | 22 | 19 | 34 | 60 | 42 |
| Iron Hatchet | tools, tier 2; weapons, melee; craftable | 180 | 126 | 250 | 175 | 320 | 224 |
| Iron Ore | materials, raw; uncraftable | 2 | 1 | 3 | 2 | 5 | 3 |
| Iron Pickaxe | tools, tier 2; weapons, melee; craftable | 180 | 126 | 260 | 182 | 320 | 224 |
| Iron Plate | materials, refined; items, loot; craftable | 31 | 21 | 39 | 27 | 58 | 40 |
| Iron Wire | materials, refined; items, loot; craftable | 34 | 23 | 51 | 35 | 63 | 44 |
| Katana | weapons, melee; items, loot; uncraftable | 2300 | 1610 | 2420 | 1694 | 2500 | 1750 |
| Khopesh | weapons, melee; craftable | 360 | 252 | 460 | 322 | 610 | 427 |
| Leather | materials, refined; items, loot; craftable | 19 | 13 | 25 | 17 | 38 | 26 |
| Leather Strips | materials, refined; items, loot; craftable | 31 | 21 | 45 | 31 | 58 | 40 |
| Lens | materials, refined; items, loot; craftable | 1400 | 980 | 2000 | 1400 | 2400 | 1680 |
| Limestone | materials, raw; uncraftable | 2 | 1 | 3 | 2 | 4 | 2 |
| Macuahuitl | weapons, melee; craftable | 1200 | 840 | 1680 | 1176 | 2000 | 1400 |
| Makeshift Bat | weapons, melee; craftable | 64 | 44 | 74 | 51 | 89 | 62 |
| Makeshift Crossbow | weapons, firearms; craftable | 450 | 315 | 580 | 406 | 770 | 539 |
| Mask | armor, tier 1+; craftable | 180 | 126 | 260 | 182 | 310 | 217 |
| Meat Soup | healing, food; craftable | 27 | 18 | 37 | 25 | 51 | 35 |
| Mobile Phone | items, loot; uncraftable | 500 | 350 | 560 | 392 | 660 | 462 |
| MP5K | weapons, firearms; items, loot; uncraftable | 30000 | 21000 | 31500 | 22050 | 33000 | 23100 |
| MP5K | weapons, firearms; items, loot; uncraftable | 34500 | 24150 | 36230 | 25361 | 37950 | 26565 |
| MRE | healing, food; uncraftable | 430 | 301 | 660 | 462 | 1000 | 700 |
| Mushrooms | healing, food; materials, raw; uncraftable | 4 | 2 | 8 | 5 | 12 | 8 |
| Nails | materials, refined; items, loot; craftable | 38 | 26 | 57 | 39 | 70 | 49 |
| Oak Log | materials, raw; uncraftable | 63 | 44 | 82 | 57 | 110 | 77 |
| Oak Plank | materials, refined; craftable | 210 | 147 | 270 | 189 | 360 | 252 |
| Oak Shaft | materials, refined; craftable | 210 | 147 | 290 | 203 | 360 | 252 |
| Oak Stock | materials, refined; craftable | 460 | 322 | 560 | 392 | 790 | 553 |
| Old Revolver | weapons, firearms; items, loot; uncraftable | 4300 | 3010 | 4600 | 3220 | 4800 | 3360 |
| Old Revolver | weapons, firearms, modded; items, loot; uncraftable | 5600 | 3920 | 5810 | 4067 | 6300 | 4410 |
| Paddle | weapons, melee; uncraftable | 220 | 154 | 320 | 224 | 380 | 266 |
| Pants | armor, tier 1; items, loot; craftable | 10 | 7 | 15 | 10 | 20 | 14 |
| Pickaxe | tools, tier 1; weapons, melee; craftable | 4 | 2 | 8 | 5 | 11 | 7 |
| Pine Handle | materials, refined; items, loot; craftable | 30 | 21 | 38 | 26 | 56 | 39 |
| Plant Fiber | materials, raw; uncraftable | 2 | 1 | 3 | 2 | 4 | 2 |
| Plastic | items, loot; uncraftable | 66 | 46 | 81 | 56 | 91 | 63 |
| Quartz | materials, raw; uncraftable | 78 | 54 | 100 | 70 | 140 | 98 |
| Raw Meat | healing, food; materials, raw; uncraftable | 4 | 2 | 8 | 5 | 11 | 7 |
| Rawhide | materials, raw; uncraftable | 11 | 7 | 16 | 11 | 20 | 14 |
| Road Sign | weapons, melee; items, loot; uncraftable | 440 | 308 | 630 | 441 | 750 | 525 |
| Rope | materials, refined; items, loot; craftable | 4 | 2 | 6 | 4 | 12 | 8 |
| Rubber | materials, refined; items, loot; craftable | 2500 | 1750 | 2920 | 2044 | 3200 | 2240 |
| Rubber Parts | items, loot; uncraftable | 9 | 6 | 14 | 9 | 18 | 12 |
| Saltpeter | materials, refined; items, loot; craftable | 7400 | 5180 | 10200 | 7140 | 13000 | 9100 |
| Saw Blade Mace | weapons, melee; craftable | 960 | 672 | 1280 | 896 | 1600 | 1120 |
| Scarf | armor, tier 1; items, loot; craftable | 4 | 2 | 8 | 5 | 14 | 9 |
| Scout's Boots | armor, scout; items, loot; craftable | 740 | 518 | 1020 | 714 | 1300 | 910 |
| Scout's Jacket | armor, scout; items, loot; craftable | 760 | 532 | 980 | 686 | 1300 | 910 |
| Scout's Pants | armor, scout; items, loot; craftable | 760 | 532 | 1000 | 700 | 1300 | 910 |
| Scout's Respirator | armor, scout; items, loot; craftable | 820 | 574 | 900 | 630 | 1100 | 770 |
| Scrap Metal | items, loot; uncraftable | 24 | 16 | 31 | 21 | 37 | 25 |
| Shirt | armor, tier 1; items, loot; craftable | 6 | 4 | 10 | 7 | 15 | 10 |
| Signal flare | items, loot; uncraftable | 17 | 11 | 25 | 17 | 30 | 21 |
| Skull Crusher | weapons, melee; craftable | 1000 | 700 | 1210 | 847 | 1700 | 1190 |
| Smooth Barrel | materials, refined; craftable | 180 | 126 | 250 | 175 | 320 | 224 |
| Spear | weapons, melee; craftable | 2 | 1 | 3 | 2 | 5 | 3 |
| Springs | materials, refined; items, loot; craftable | 54 | 37 | 67 | 46 | 97 | 67 |
| Sterile Bandage | healing; craftable | 97 | 67 | 110 | 77 | 130 | 91 |
| Stone Brick | materials, refined; craftable | 9 | 6 | 14 | 9 | 18 | 12 |
| Sulfur | materials, raw; uncraftable | 78 | 54 | 100 | 70 | 140 | 98 |
| Tape | items, loot; uncraftable | 8 | 5 | 12 | 8 | 17 | 11 |
| Thick Fabric | materials, refined; items, loot; craftable | 7 | 4 | 14 | 9 | 19 | 13 |
| USB | items, loot; uncraftable | 500 | 350 | 560 | 392 | 1200 | 840 |
| Vest | armor, tier 1+; craftable | 180 | 126 | 230 | 161 | 300 | 210 |
| Watch | items, loot; uncraftable | 510 | 357 | 610 | 427 | 1200 | 840 |
| Wooden Parts | materials, refined; items, loot; craftable | 5 | 3 | 12 | 8 | 16 | 11 |
| Wrench | items, loot; uncraftable | 810 | 567 | 960 | 672 | 1100 | 770 |