"Allows you to build an ATV to reach far territories in comfort."
—Blueprint description
Description
"Allows you to build an ATV to reach far territories in comfort."
The ATV is an essential vehicle for any survivors who want to travel further from home. It is the second vehicle to be unlocked at level 18.
The ATV allows survivors to travel to other lands, such as Oak Bushes and Watchtowers.
Like the Chopper, completing the ATV consists of two phases. The first is crafting the "structure" in your base. The second is assembling the ATV itself, which requires additional components.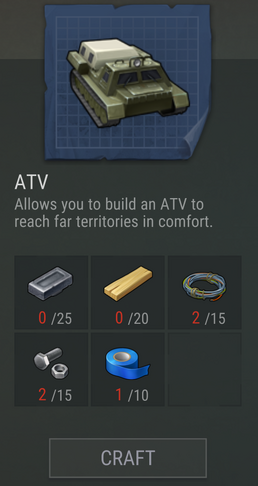 Crafting Requirements
Unlock:
Materials:
Furniture:
Phase 1
Unlock
18
Craft Points
2
Time
N/A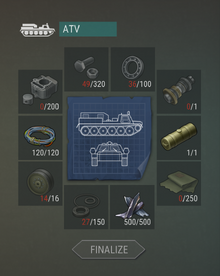 Phase 2
It was said by Kefir that some vehicles were made to be constructed by clans. This might be the reason why finalization of the ATV requires 200 engine parts.
200 Engine Parts is only obtainable with patience.
Usage
Once finalized, the ATV can be used to travel to other locations such as Oak Bushes, and also possibly the upcoming swamp location that could possibly be coming in a future update.
Video Guide
Trivia
Gallery
Community content is available under
CC-BY-SA
unless otherwise noted.